Ana's NHS Staff Nurse Experience: From Batalha to Southampton
02 Jun, 2022
5mins
Kate Cowhig International Healthcare Recruitment (KCR) proudly place hundreds of new...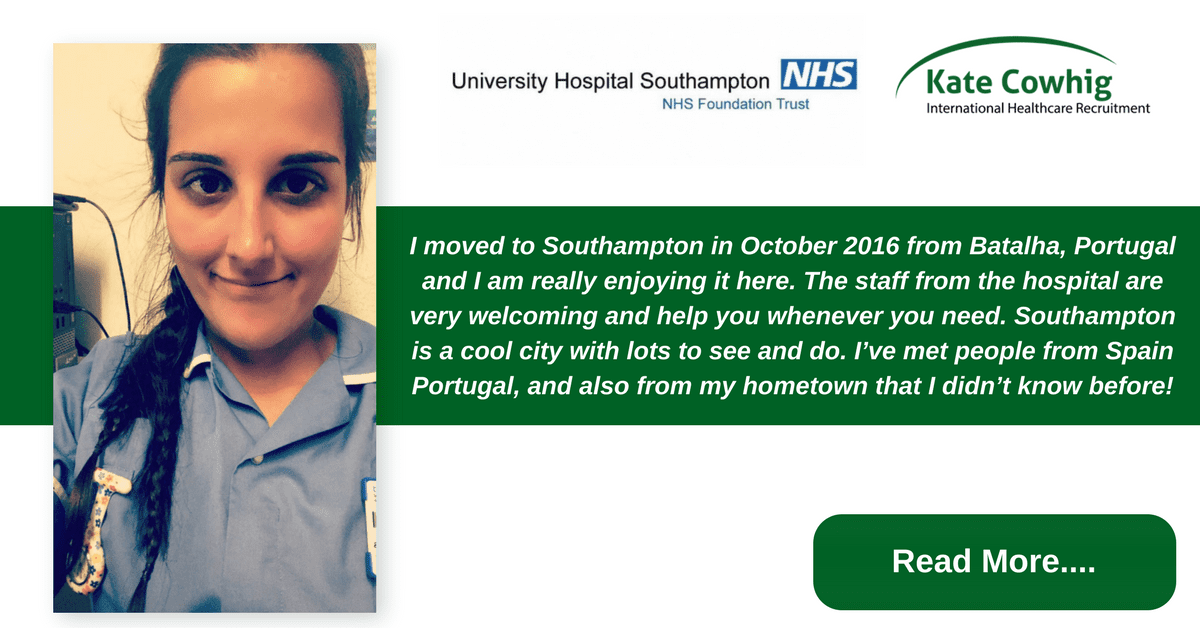 Kate Cowhig International Healthcare Recruitment (KCR) proudly place hundreds of newly qualified and experienced Staff Nurse in full-time positions throughout the UK and Ireland each year. KCR's dedicated recruitment team support candidates throughout the entire recruitment process - from interview preparation to their arrival in the UK or Ireland.
We recently caught up with Ana - a Portuguese nurse who relocated to Southampton in October 2016 to work as a Staff Nurse at University Hospital Southampton NHS Foundation Trust.
Ana shares her recruitment and relocation experience below.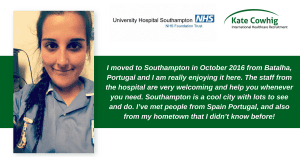 My name is Ana Henriques, I am a Staff Nurse at the University Hospital Southampton NHS Foundation Trust.
I moved to Southampton in October 2016 from Batalha, Portugal. I work in the Medicine for Old People (MOP, G6) and I am really enjoying it here. The staff from the hospital are fantastic, they are very welcoming and are ready to help you whenever you need, even if you've been here for years. For example, when in June we had wildfires in Portugal, one of the nurses from Educational Team came to me asked how I was, if I needed any help, how my family were, if my family or anyone had been affected by the fire… the Educational team is a group of many nurses that you'll get to meet on the first two weeks at the hospital, they are the ones that help the most adapting to the clinical differences between Portugal/Spain and UK. They are always available and they are divided between different divisions, so you're always have one allocated to your ward that comes regularly to check on you and your colleagues.
After the two weeks induction you start working in the ward as a supernumerary staff member for a few weeks, until you're ready to have your own patients. My Ward Manager and colleagues were also very welcoming, always helping and happy to explain the wards guidelines, and make you feel comfortable. Also, the hospital executive Chief regularly visit wards to check how the staff are and if we need help with anything from the management. Even on Christmas day she came to every ward in the hospital thanking every staff member for working that day, thanking specially the emigrants for being there while being so far away from home and their families.
KCR were really helpful to me from the beginning of the recruitment process – they helped me prepare for my interview and have supported me with passing my English language test and registering with the NMC. I passed my Academic IELTS exam in January with the help of Richard Language College and the trust – and now I am a fully registered nurse in the UK!
I am enjoying Southampton. It is a cool city with a lot of things to see and do. And with easy access to visit nearby cities by coach or train. My favourite thing about the city is how easily you can go explore different places and it's a very calm city with a lot of people from all over the world. Moving away from Leiria was not an easy experience but I enjoy living in Southampton. I've met people from Spain and Portugal, I've also met people from my hometown that I didn't know before!
If you are thinking about moving to UK to work as a Staff Nurse I would really recommend it – there are lots of career opportunities here and the IELTS support from KCR, the English school and University Hospital Southampton has been extremely helpful. Get in touch with the Kate Cowhig International Healthcare Recruitment team – they will help you every step of the way!
Thank you to Ana for sharing her experience. If you have recently relocated to the UK or Ireland and would like to share your experience, please get in touch with our team.
Click here to apply for a Staff Nurse vacancy at the University Hospital Southampton NHS Foundation Trust.