Sorina's NHS Staff Nurse Experience: University Hospital Southampton NHS Trust
25 May, 2022
5mins
Kate Cowhig International Healthcare Recruitment (KCR) proudly place hundreds of ne...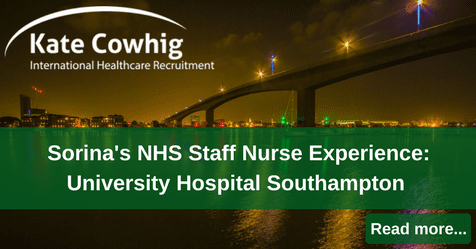 Kate Cowhig International Healthcare Recruitment (KCR) proudly place hundreds of newly qualified and experienced Staff Nurse in full-time positions throughout the UK and Ireland each year. KCR's dedicated recruitment team support candidates throughout the entire recruitment process – from interview preparation to their arrival in the UK or Ireland.
We recently caught up with Sorina – a Romanian nurse who relocated to Southampton from Cheltenham in May 2017 to work as a Staff Nurse at the University Hospital Southampton NHS Trust. Sorina shares her recruitment and relocation experience below.
My name is Sorina Tarnosche, I am a Staff Nurse at the University Hospital Southampton NHS Foundation Trust. I moved to Southampton in May 2017 from Cheltenham, Gloucestershire.
I work in the Trauma Orthopaedic Theatres and I am really enjoying it here. The hospital is a renowned Centre of Excellence in the South of UK.
KCR were really helpful to me from the beginning of the recruitment process – they helped me prepare for my interview and have supported me with preparing for my English language test and registering with the NMC. I am currently attending English classes at TEG English School in Southampton, 6 hours a week and I am preparing to take my IELTS exam in January 2018. The teachers here are helpful, approachable and reliable. The goal of getting the minimum band 7 for each of the four tasks can be challenging, but with a bit of work and their help, I believe it is achievable.
I declare myself completely in love with Southampton. It is a lively, young and beautiful city, where you never get bored.
My favourite thing about the city is its huge green areas, beautiful and modern buildings and wonderful shores with superb water views.
Moving away from Cheltenham was a positive change in my life, since it came with this great opportunity of working for UHS, brought me next to my partner who was already here, and gave me the opportunity to enjoy the sunniest town in the UK.
If you are thinking about moving to UK to work as a Staff Nurse I would really recommend it – there are lots of career opportunities here and the IELTS support from KCR, the English school and University Hospital Southampton has been extremely helpful. Get in touch with the Kate Cowhig International Healthcare Recruitment team – they will help you every step of the way!
I would like to send my gratitude to my Recruitment Consultant, Paula, who was so supportive and helpful during the entire recruitment process. She was always there when I needed advice and I could always count on her prompt reply whenever I needed her.
Thank you so much!
Thank you to Sorina for sharing her experience. If you have recently relocated to the UK or Ireland and would like to share your experience,
please get in touch with our team.
Click here for a list of current NHS Staff Nurse vacancies across the UK.